Learning the Art of Auctioneering
The WAA Annual Conference is formulated for the auctioneer to gain direction and knowledge beyond the auction ring. Continue to enhance your knowledge of nationally renowned professional speakers through the outstanding seminars provided. The WAA conference provides interaction with auctioneers and professionals that have ideas and had situations arise in their business that are worthy of discussion. It is a great time to talk and have fellowship with others.
February 10th, 11th, & 12th
625 W Rolling Meadows Dr, Fond du Lac
Conference Continuing Education
We pledge to implement and conduct new courses, as well as the many other standard courses with updated materials usable by today's generation, with the knowledge provided by the seasoned auctioneer and professional.
Statewide Continuing Education
Wisconsin Auctioneers Association holds the continuous education (CE) and returns 100% of your fees to market the auction profession. The courses will be conducted by professionals in their field.
Wisconsin Auctioneer Board
The Auctioneer Board is created in Wis. Stat. § 15.405(3) and works with the Department of Safety and Professional Services as outlined in Wis. Stat. ch. 480. The members of the Auctioneer Board are appointed by the Governor and confirmed by the Legislature to serve 4-year terms. 
Cornerstone-edu Auctioneer Continuing Education
Cornerstone-edu is approved in Illinois, Wisconsin, Tennessee, Kentucky, Alabama, North Carolina, Arkansas, Georgia, Idaho, Massachusetts, Missouri, New Hampshire, Oklahoma, Utah, Virginia, and Washington.
Cornerstone-edu provides you with online classes that puts you in touch with information to grow your business and the required courses to renew your auctioneer license. Today's auctioneers need to keep up with the rapidly changing marketplace, which has been altered dramatically in the last decade.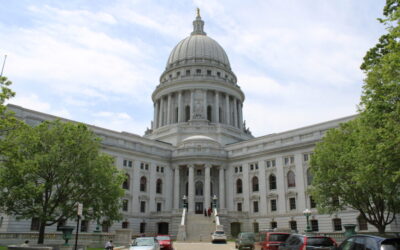 The Wisconsin Department of Safety and Professional Services (DSPS) is upgrading its professional licensing process, which included the launch of a new online licensing dashboard. Gov. Tony Evers' office said the launch builds on previous work to improve licensing...
In 1990, Auctions in Wisconsin totaled $975 million annually, not including sheriff's sales and real estate auctions. There were 300 full-time and 100 part-time auctioneers in the state and 17,500 auctions were held in Wisconsin that year.
In 1985, the National Auctioneers Association had 6,200 members and the Wisconsin Auctioneers Association had 170 members.
Our three founding members were:
John Ioge of Taylor, WI
Clarence Olson of Galesville, WI
Louis Primus of Fairchild, WI
The Wisconsin Auction law seeks to establish minimum standards and competencies for Auctioneers regarding their legal and ethical responsibilities to the public, their clients and fellow Auctioneers.