WAA Member Area
We are committed to meeting and when possible exceeding the needs of our members and constantly focus on member satisfaction.
Compete in a Contest
Register to compete in one of our highly competitive and prestigious competitions at our annual annual conference.
WAA Committees
Marketing Committee
Responsibilities: Oversee marketing program. Pursue projects to promote the association to prospective members, vendors, sponsors. Generate ideas for marketing items, such as caps, crocks, lapel pins, bumper stickers. Recommend methods to promote the auction method of marketing; pursue Governor's Proclamation for National Auction Day; WAA staff has letter and sample proclamation; attend signing ceremony at state capitol; generate press releases.
Chairman: Jacob Hills

Convention Committee
Responsibilities: Work with education committee and staff to provide education, networking and social opportunities for members, including pre- and post-conference activities such as tours, entertainment, meal.
Chairman: Riley Kahl

Education Committee
Responsibilities: To recommend education, including but not limited to conferences and seminars, that provides WAA members with program choices that meet their areas of interest, be it specialty auctions, the latest technology, marketing, advertising, business planning, motivation/inspiration, or any other subject deemed by the committee to be necessary and timely; and Identify topics, speakers and length of presentations for proposal to the board.
Chairman: Adam Kielsmeier

Legislative Committee
Responsibilities: Keep abreast of proposed legislation, laws and administrative rules that affect the auction industry. Consider and recommend proposed legislative action to the board of directors. Write articles/reports for the association/s publications. Propose activities to strengthen the identity of the association and the auction method with the legislature. Invite area legislators to conferences.
Chairman: Robert Petts

Committee Members
Bryce Hansen
Carol Wagenson
Carol Miller
Stan Jones
Rodney Freymiller
David Allen
Jim Gavin
Jeff Hines
Heather Boiten
Riley Kahl

Nominating Committee
Responsibilities: Recruit. interview and recommend candidates for office. Candidates must complete the Commitment and Conflict of Interest forms and return them to the committee or WAA office; submit slate and photos to WAA in advance; publish in advance if time allows. Meet with candidates prior to the election; review the Preamble. Code of Ethics, Bylaws, Responsibilities (Article III), Standard Operating Procedures; and answer questions.
Chairman: Curt Kramer
Committee Members
Rich Ranft
Carol Miller
Damien Massart
Michelle Massart

State Champion Committee
Responsibilities: Organize and conduct the State Auctioneer Championship Contest using the rules and scoring method of the International Auctioneer Championship (IAC) contest. 6. Arrange for five judges who have an understanding of the auction business/auction chant.
Chairman: Tim Ault
Committee Members
Carol Miller
Carol Wagenson
Jim Gavin
David Allen
Heidi Miller
Tim Miller
Scott Werlein

Bylaw Committee
The Bylaws committee is responsible for the maintenance of the Association's Bylaws. This committee also provides the necessary communication to the membership pertaining to the Bylaws including but limited to proposed amendments.
Chairman: David Allen

Summer Events
Planning and coordinating our summer events including seminars, social gatherings, and continuing education classes.
Chairman: Ryan Adams

Membership Committee
Responsibilities: Recruit and retain members. Develop and organize a membership drive or campaign. Review membership application and benefits brochure; recommend changes/additions. Solicit new members on an ongoing basis. Set an annual goal for membership and set up monthly goals for members to work toward.
Chairman: Riley Kahl
Advocacy
Make a Difference! Join our Grassroots Efforts
WAA promotes grassroots lobbying for WAA advocacy. In order to assist auctioneers and others in this effort, WAA will supply Talking Points for when you meet with your representative.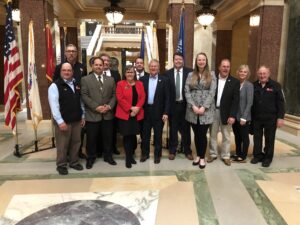 Join the Board
APPLY TO BE A BOARD MEMBER
The Board of Directors is elected by the members present at the annual meeting. The Nominating Committee considers geographic location of candidates and submits a slate, members may announce their own candidacy, and nominations may be made from the floor.

DIRECTOR/OFFICER REQUIREMENTS
A WAA member who wishes to be elected as an Officer or Director of the association at the Conference in Fond du Lac, Wisconsin, must announce his or her candidacy by 5 p.m.,Central time, one week prior to the annual conference.

WAA POSITIONS AVAILABLE
Vice President: One-year term. Must have served a full term on the Board of Directors.
Treasurer: Two-year term. Must have served a full term on the Board of Directors.
Directors: Candidate must: be a member of the WAA in good standing for at least three consecutive years.Two Directors are elected each year.
Board responsibilities: Expected to attend scheduled face-to-face meetings and serve on committees asrequested by the President. Board members may be requested to attend and speak at various state association conventions as WAA representatives and attend social and other functions sponsored by the organization when schedules allow.

APPLICATION PROCESS
Complete position descriptions for Vice- President or Director can be obtained by emailing WAA Executive Director Natalie Pratt at info@wisconsinauctioneers.org.
Once a WAA member has reviewed the aforementioned information, he or she may run for election by first submitting a letter of intent answering these questions:
Why are you interested in serving?
How many years have you been a member of the WAA?
What have you learned from serving on a volunteer board, if applicable?
What committees and/or offices have you served on or held in your state association or in NAA?
They also must provide the Committee two references and a professional photo of themselves.
Candidates will be notified if they are being endorsed by January 31st.
Contact info@wisconsinauctioneers.org for questions.

JOB DESCRIPTION OF THE WAA BOARD MEMBER
WAA Board Members act to support the overall mission and vision of the Wisconsin Auctioneers Association. To that end, they agree to accept the following responsibilities:
✓Serve on this Board for at least a full, three-year term.
✓Determine and support the
organization's mission, vision and values.
✓Ensure the budget adequately reflects the organization's program priorities.
✓Provide fiduciary oversight by ensuring proper procedures and policies are in place for financial and legal oversight and to be financially literate (this means being able to read and understand the financial reports used, knowing the organization's financial situation and reviewing the 990 filed by the organization each year).
✓Ensure legal and ethical integrity and maintain accountability.
✓Supervise Executive Director performance through monitoring of policies and procedures and financials.
✓Attend at least four face-to-face meetings annually, prepared and informed about issues on the agenda, i.e. stay informed about committee matters, review board minutes and other materials prior to board meetings.
✓Attend conference calls as they are scheduled.
✓Contribute to meetings by expressing one's point of view with the best interest of WAA in mind.
✓Support the decisions of the board.
✓Become knowledgeable about WAA and its programs.
✓Serve as an active ambassador for WAA when attending professional functionswhich may include speaking and/or attending state association annual businessmeetings.
✓Serve on committees as appointed by the President.
✓Have a working knowledge of Roberts Rules of Order.
✓Accept the non-governance responsibilities that come with service on the board –attend social and other functions sponsored by the organization when your schedule allows, communicate with others about the work of the organization, and show your support for the organization when talking with others.
✓Follow all conflict of interest and confidentiality policies of the organization. Err on the side of reporting even potential conflicts. Do not ask for favors or special treatment. Do not take on more responsibility than you can reasonably handle given your employment, family and other social and volunteer commitments.
✓Understand your role as a director and the roles of staff and other volunteers in the governance and operation of the organization.
CHARACTERISTICS AND ATTRIBUTES OF A MEMBER OF THE WAA BOARD OF DIRECTORS
Teamwork
Listening
Speaking
Decision-making
Accountability
Flexibility
Member-focused
Integrity
Results-oriented
Self-management
Stress tolerance
Tact
Influence (as in the ability to influence others)
Leadership
Experience
Technology
Financial monitoring and analysis
Summer Events
Some photos from the first annual WAA Northern Getaway! Mark your calendar for next year! Thank you to our hosts Kendall Thiel and Sterling Strathe! North of Eagle River and South of Conover, East of Hwy 45.
Member Benefits
Take advantage of all your member benefits.
Our goal is to find new and exciting ways to help our members take care of business and to enjoy a few perks along the way for you and your family.
Ticket Deals
Make lasting memories with up to 50% off admission to shows, attractions, theme parks & more.

Hotel Savings
Book your next stay through our Hotel Gateway to save up to 60% off worldwide.

Rental Car Discounts
Enjoy up to 30% off and other benefits every time you rent from Avis/Budget.
If you are an active WAA member email us at info@wisconsinauctioneers.org to find out how to take advantage of these great deals!
Press Releases
Are you celebrating a company milestone or have other newsworthy items to share? Let us know so we can send out a press release on your behalf. We have a database of over 150 (and growing) Wisconsin-based news media organizations – television, radio, newspapers, & magazines. We will help get the word out. Likewise, if you are ever published in the newspaper or appear on TV, let us know so we can share that on social media for you.
Member Spotlight
If you would like to be featured for our member spotlight on both social media and our website, please send a short bio along with a description of your business and your areas of specialization. Please also include a photo of yourself and some of your business (business photos can be at an auction or your facility). Make sure to include your business contact information in case someone is looking for a referral.
→ Seminars with nationally known speakers
→Send your press release to 125 Wisconsin News Media
→ Grassroots representation and input into legislation and regulations that impact your livelihood
→ Have your auctions listed on Wisconsin Auction Alerts
→ Connect with other auctioneers and join the WAA Private Discussion Group
→ Experienced board of directors & professional association management services
→ The Wisconsin Auctioneers Association provides Continuing Education seminars/classes that are accredited and is the only provider that returns 100% of your fees to market your business.
→ Programs that provide continuing education credits, held at the winter conferences and every other year in the Fall of the year.
→ Bid calling contest promotes the auction method of marketing. (Winner advances to International Competition)
→ Hall of Fame Recognizes outstanding contributions to the Wisconsin auction industry.
→ WAA Auxiliary Scholarship for members and their family members.
→ Home Depot Pro Institutional (Save 10% off maintenance, repair & operation supplies)
→ Home Depot Pro Xtra (Pro Xtra is The Home Depot free loyalty program built for Pros, now available to you with added features.)
→ Office Depot (Up to 75% off Best Value Products – Essentials, paper, ink, breakroom, cleaning & more) – This has a bigger discount than the standard rewards program.
→ WAA Line of Clothing at Lands End
→ Hotel Discount (Save up to 60% off hotel rates worldwide)
→ US Pay – (Credit Card Processing less than 1% transaction fees)
→ Avis Car Rental (up to 30% discount)
→ Budget Car Rental (Special Rates)
→ YRC Freight Shipping (up to 83% discount national/regional shipments)
→ Ticket Deals (Save up to 60% off movies, theme parks, shows, more.)
→ Rx Prescription Drug Card (Save up to 75% off prescriptions)
→ Rocket Receivables (Save 10% off debt collection services.)
→ SimpleTexting (Save up to 25% off SMS marketing services.)
→ Batteries & Bulbs (Save up to 71% off batteries, bulbs, more)
→ Adobe (Save up to 15% off on creative, marketing & document solutions)
→ Constant Contact (Save 30% off 3 months of email marketing.)
→ Ace Hardware (Save 12% off all your hardware needs)
→ 4imprint Promotion Products (Save 10% off promotional products)
→ AD Accounting Services (Save on online business accounting services)
→ ADP Payroll Services (Save up to 20% off new payroll services)
→ Sterling Now (Save 10% off background check services)
→ 1-800 Flowers (15% Discount)
→ Harry & David Gourmet Gift Baskets (15% Discount)
→ Cheryl's Cookies (Cookie Gift Boxes; 15% Discount)
→ The Popcorn Factory (Popcorn Tins & Gifts; 15% Discount)
→ Fruit Bouquets (15% Discount)
→ 1-800 Baskets (15% Discount)
→ Simply Chocolate (15% Discount)
→ Wolfermans Tradition of Fine Baking (15% Discount)
→ Personalization Mall (15% Discount)
→ Shari's Berries (15% Discount)
→ Stock Yards World's Finest Steaks and Chops (15% Discount)