Written By: John Gunnell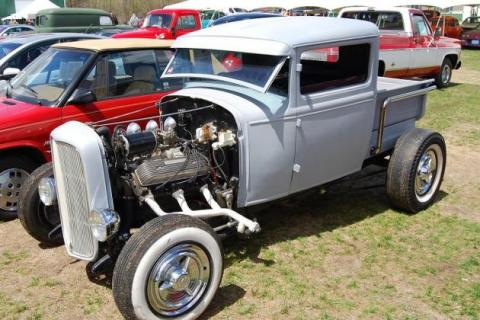 It is not easy to run successful collector-car auctions in Wisconsin. In order to protect buyers and sellers, the state has strict laws governing such events. Over the years we have seen many auction companies try to crack into the Wisconsin market, only to leave. Wayne Yoder of Wautoma, Wis., has done a pretty good job of defying that trend and holds annual sales at his Wautoma headquarters facility in the spring and fall.
Yoder's May 10, 2019 auction had more people attending than we've ever seen at any of his prior auctions. As usual, Wayne started the auction by selling several hundred lots of toys, memorabilia, automobilia and petroliana. Selling cars was supposed to begin at 11 am, but there was so much interest in other items that the cars got off to a late start.
As far as the highest prices, they went to hot rods, with 26 being bid on and 17 of these finding new owners. Since these included cars selling for $23,000, $25,000, $29,500 and $30,000, the average price for hot rods was $13,338.24. That was nearly twice as high as the average price for all vehicles in the auction.
High prices went to a '30 Ford "American Graffiti" style hot rod ($25,000), a red-and-black '40 Ford Tudor ($25,000), a '33 Ford fiberglass chopped coupe ($30,000), a black small-block Chevelle that had a 1968 frame, but a body with both '68 and '69 pieces ($29,500) and a 1972 Chevelle SS Sport Coupe ($24,500). The latter was also the highest-selling "stock" condition vehicle.
The sale offered quite a few bargain-priced project cars that seemed to be well worth their selling prices. For instance, an '84 Chevy Monte Carlo coupe that needed TLC more than anything else brought just $1,100. As required by Wisconsin law, each vehicle in the auction carried a dealer inspection form with check-offs to disclose any problems that existed.
Source: https://www.hotrodhotline.com/node/21592#.XOaOY9hOlEY