Jacob Hills
2022 Novice Champion Auctioneer
Jacob Hills is a first generation auctioneer and the owner of Elite Auction Service LLC. Which he started in January of 2019. Jacob graduated from Worldwide College of Auctioneering in June of 2018. Jacob started his auction career as a yard worker in the livestock yards. As his passion for livestock and auction industry grew he also learned other skills at the sales such as presale grading, booking in livestock, clerking and working the ring as a ring man but his desire was to be an auctioneer. Jacob now sells all classes of livestock for the Fennimore Livestock Exchange in Fennimore Wisconsin. Conducts produce auctions for Growers Produce Auctions in Cashton Wisconsin and also conducts various benefit fundraising auctions and estate auctions. As a way to hone his skills not only for himself but also for the benefit of his sellers and clients Jacob likes to compete in Auctioneer and ring person contest. Such as the State contest the World Livestock Auctioneer Contest and World Automobile auctioneer contest. His latest accomplishments has been the 2022 Wisconsin Auctioneers Associations novice champion and 1st runner up in the state championship.
Jacob is an Army veteran and served from 2001-2005 with the 2nd Ranger Battalion in Afghanistan and Iraq.
Jacob is married to the love of his life Kristi and they have two wonderful children Michael and Vivian. They live in Ridgeway Wisconsin and manage Knob Hill Farm. Where they raise horses, cattle, dogs and children.
Jacob enjoys spending time with his family and friends. Raising various types of livestock and caring for his Australian Cattle Dogs. He also enjoys hunting, fishing, coaching baseball and is an active member in the Spring Green Community Church. He loves life and absolutely loves the Auction and the Auction method of marketing.
Here is some Of the service's Elite offers at this time!!!
Auctioneer
Contract Auctioneer
Ring man/bid spotter
Clerk
Book ins
Auction help
Consignment auctions
Estate auctions
Benefit/fundraising auctions
Contact information
Phone: 608-228-9051
Email: jacobhills2004@gmail.com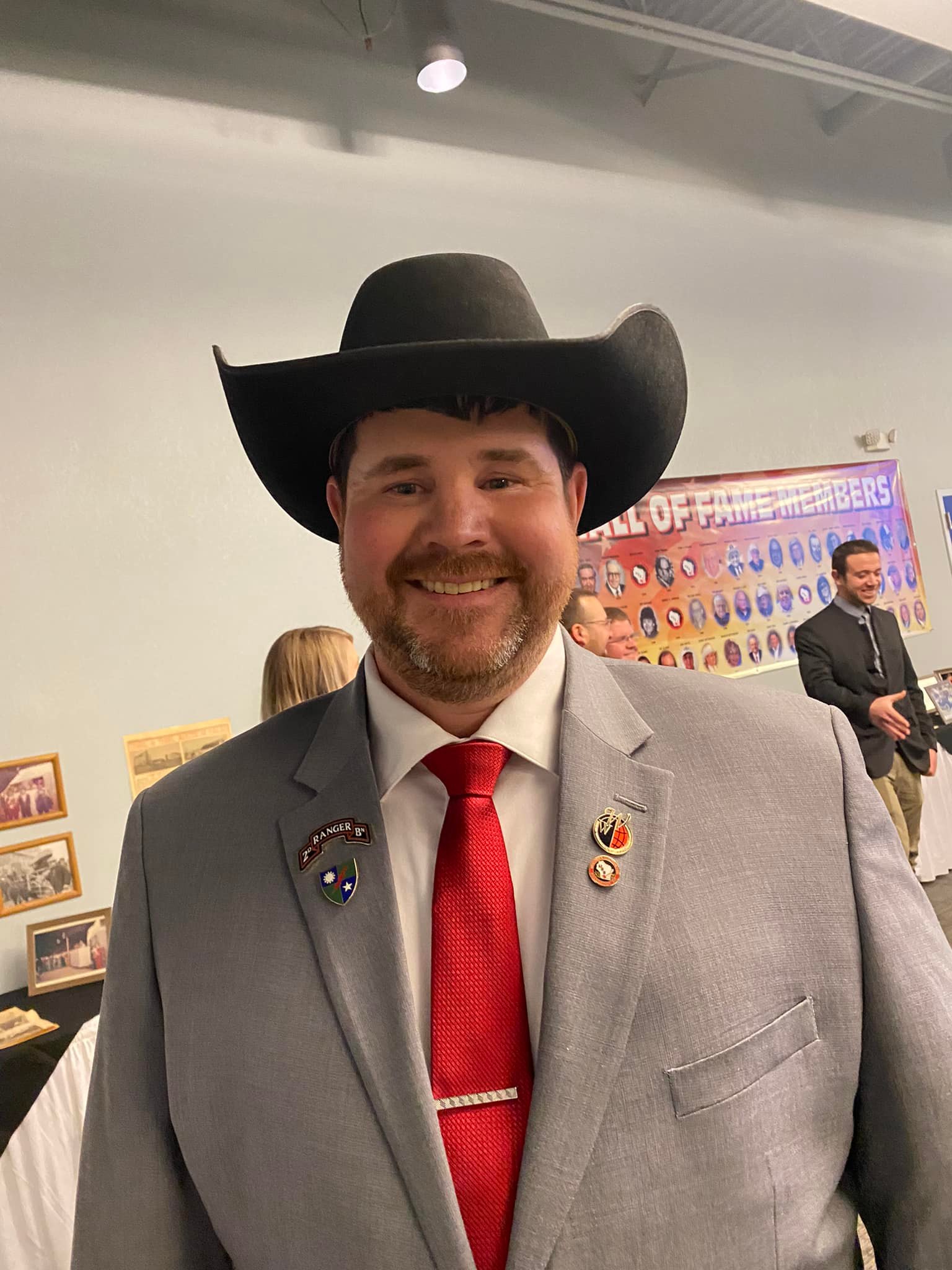 2020/2021 – Tilon Mast
2019 – Troy Krueger
2018 – Matt Zimmerman
2017 – Mark Oberholtzer
2016 – Robert Helmuth
2015 – Dallas Kravlovetz
2014 – Chris Sund
2013 – Jeremy Schaefer
2012 – Sterling Strathe
2011 – Katy Cain
2010 – Joe Mellem
2009 – Michelle Massart, CAI
2008 – Randy Warne
2007 – Jamie Back
2006 – Rod Johnson, BAS
2005 – Patricia Fox
2004 –
2003 – Sherry Blakeley
2002 – Kelly Nemetz
2001 – Kurt Kramer
2000 – Jonathan Green
1999 – Laura Hackey
1998 – Deborah Rankin
1997 – Allen Buch
1996 – Larry Teasdale
1995 – Larry Larmer, CAI
1994 – Eli Detweiler, CAI
1993 – Paul Witte
Novice Auctioneer Contest
Have you been an auctioneer for 5 years or less? If so, why not compete in this year's novice auctioneer contest? Novice Contest will be held this year on Sunday beginning at 5 PM.
You'll get an opportunity to compete with other new auctioneers and show off your skills. You never know who in the audience may be looking for help at their auctions. You really should enter.
1. The full name of the contest is "WISCONSIN AUCTIONEERS ASSOCIATION, INC. NOVICE AUCTIONEER CONTEST.
2. There shall be one division combined for men and women.
3. Contestants shall be 18 years of age or older, current members of the WAA, and hold a current Wisconsin auctioneer license. An auction market, auction company, private company or business person, association, newspaper, etc. may sponsor a contestant.
4. The contest is open to unlimited entries. The current Novice of the Year may be a contestant but his/her entry fee shall be waived.
5. Entries must be accompanied by a $20 non-refundable entry fee, must be received prior to the contest. Each Contestant is to bring one (1) item to be auctioned off of $25 value or more.
6. All contestants must check in at one half hour( ½ hour) before the contest scheduled time for orientation and drawing for order of appearance. There will be a drawing for the order in which NOVICE contestants compete.
7. The dress code used for the International Auctioneer Championship Contest (IAC) will be used, specifically: men shall wear business suits/ties and dress shoes. Women shall wear business suits (pants or skirt) and no open-toes shoes. Failure to meet the dress code may be cause for elimination at the call of the contest committee.
8. The sound system shall be preset. Contestants will be allowed to test it in advance but cannot adjust it during the contest.
9. Announcements the day of the contest will take precedence over printed material.
10. Three to five judges shall be selected by the contest committee.
11. The IAC scoring system (attached) will be used.
12. When the contestant's number is called by the Emcee, the contestant shall come to the microphone and state only his/her name, city, contestant number, and sponsor(s), if any. Any reference of a commercial nature for the individual auctioneer shall be cause for a reduction of score.
13. Each contestant shall sell three (3) consecutive items. Before the leaving the microphone, the contestant shall again state his/her name and contestant number.
14. Before leaving the microphone, the contestant shall again state only his/her name, city, contestant number, and sponsors if any. Any reference of a commercial nature for the individual auctioneer shall be cause for a reduction of score.
15. Scores from the contest will determine the NOVICE Auctioneer of the Year.
16. If a tie score occurs in the preliminary round, the contestant with the highest score in the Chant/Voice category will prevail.
17. The NOVICE Auctioneer of the Year is invited to participate at the WI State Fair Auctioneer Championship. There is no charge for this competition to the NOVICE Auctioneer.
18. All contestants will receive participation medallions.
19. Contestants shall not be given the exact order of finish. Score sheets and judges' comments will be sent after the contest.
20. Committee members shall not participate in the contest in the year in which they serve.
21. Past champions may not compete in subsequent contests.
22. The committee chair shall address, as needed, any and all errors or omissions regarding rules and regulations of the contest. The decision of the committee chair shall be final and binding at the time a decision is made and shall apply to all contestants.
23. All proceeds from the auction will used at the discretion of WAA. An optional 10% buyer's fee will be donated to a charity chosen by WAA.